Adopt a Greyhound Atlanta, Inc. always welcomes volunteers. It is only through the generous donations of time, money, and services that we have been able to continue our rescue efforts for more than three decades.
NOTE: AAGA IS A 501(C)(3) ORGANIZATION. THAT MEANS THAT YOU MAY USE US TO WORK OFF ANY COMMUNITY SERVICE REQUIREMENTS YOU HAVE.

We have a variety of things you can do to help out our organization, including:
Bringing your Greyhounds out to Meet 'n Greets and speaking with prospective adoptive parents.
Cleaning kennels.
Doing yard work.
General housecleaning (e.g., mopping floors, cleaning restroom , dusting).
Washing dogs.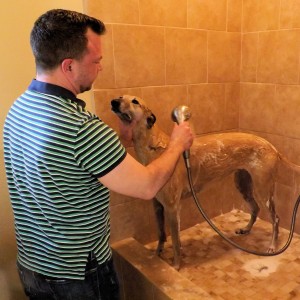 If you can help with any of these things, or are interested in volunteering in any other way, please contact us.