Here are some pictures of Greyhounds currently living at Greys'Land awaiting adoption. Keep in mind that Greyhounds do not just come in a variety of colors; they come in a variety of personalities as well. It is the dog's personality, not its pretty face, that makes for a good or bad fit in your home. Whether you are looking for one that is very active and playful, very calm and docile, or somewhere in between, chances are there is a Greyhound that will fit your lifestyle.
To learn what it is like to live with a retired racing Greyhound, we invite you to visit us at our Meet and Greets and mingle with some of our adoptables as well as talk to current owners. Just check out Upcoming Events to see when the next one is scheduled. You are also welcome to come out to Greys'Land, the Greyhounds' home in Stone Mountain, Georgia. Give Carl a call at 770-469-9533 to arrange an appointment.
If you are interested in adopting a Greyhound, we do require that you first complete and submit our online Adoption Application form. There is no cost, nor does this form in any way obligate you to adopt. It merely gives us information that will help us guide you to the best dog for your home situation.
Because of our high turnover, there is no guarantee that any dog on this page is still available. Also, RECENTLY ARRIVED GREYHOUNDS MAY NOT YET BE POSTED TO THIS SITE. You can always call us at 770-469-9533 to see if there are Greyhounds available other than those shown.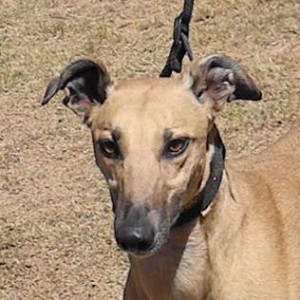 ADOPTED.  
Kiss is that classic-looking red Greyhound with the most gorgeous naturally mascara'd eyes.  Her career consisted of 108 races at the Jacksonville and  Wheeling Downs tracks.  She is very ladylike, graceful and friendly.  She ...
(more)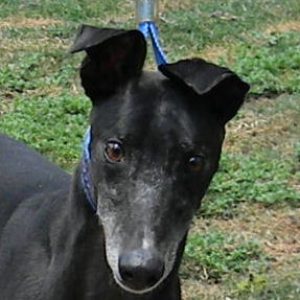 ADOPTED!  FOUND A SPECIAL HOME!
  Ace is a handsome 3-year-old guy, so sleek and shiny. He's on the small side for a male – raced at 68 pounds – but has a huge personality.  He ...
(more)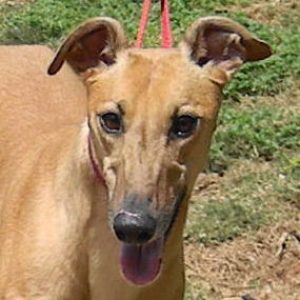 A lovely girl with beautiful natural mascara'd eyes, Cherry is very sweet but quiet and reserved.  She likes to stand next to you and be petted.  An injury ended her promising athletic career at 70 ...
(more)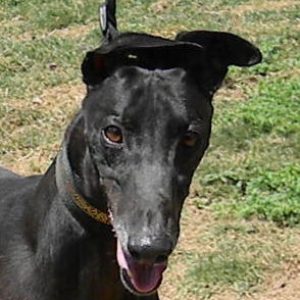 ADOPTED.  
Grizzler is a shiny black fellow with just a small patch of white on his chest and a "cross-over" right ear. (He always holds it crossed over on top of his head — so ...
(more)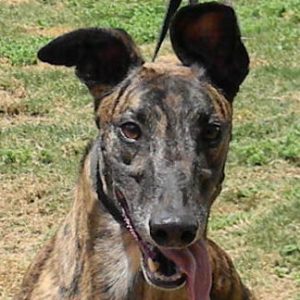 ADOPTED.  
Spartan is a big (RWt 76#), strong handsome guy with a dark face and large impressive ears. Confident and outgoing, he certainly is used to travel, as his 107 races were spread out over ...
(more)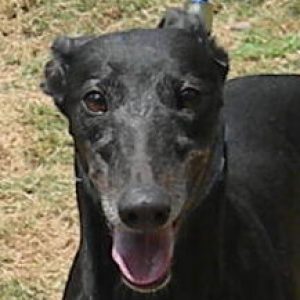 Nite is an adorable petite shiny girl with a super personality.  She knows her name and is very rambunctious and affectionate.  She will jump up on you and literally cover your face with kisses — ...
(more)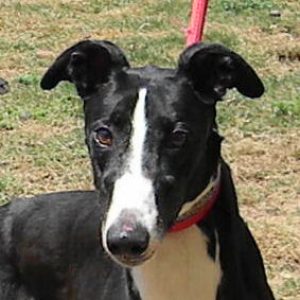 With his striking "tuxedo" markings — white blaze on face, white chest and belly, 4 white stockings, and white tipped tail — Praetor looks as if he is decked out for a big formal affair ...
(more)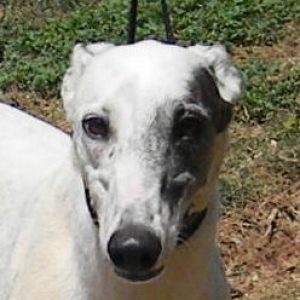 Almost totally white, Fanta has a brindle patch over her left eye and on her left hip. The track called her "a sweet loving girl", and she certainly is!  She is very sociable and will ...
(more)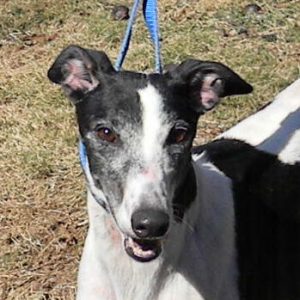 Tally is a lovely petite (racing weight – 55#) young lady.  She is an active confident girl who always likes to be where the human activity is. She is a happy gal with strong racing ...
(more)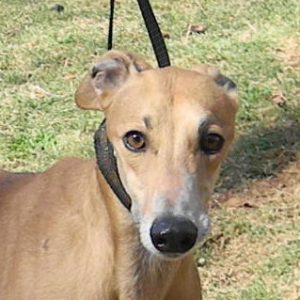 This young boy is so handsome but quite shy, probably why he never raced.  He will walk over to greet every visitor to Greys'Land but then return to a dog bed.  When he lies down, ...
(more)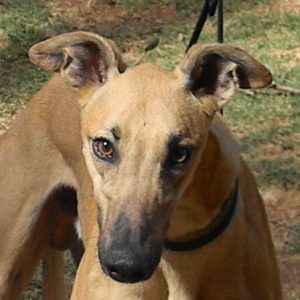 Check out this classically handsome pup with the beautiful naturally mascara'd eyes.  Although both his mom and dad were successful racers, Pzaz never professionally raced due to a minor injury he sustained early in his ...
(more)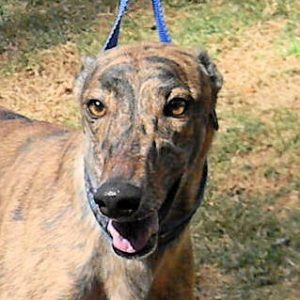 ADOPTED.
Dafney is a bouncy, outgoing young lady who was retired from racing at an early age following an injury.  Now back 100% to good health, she is looking for her forever home.  With noticeable ...
(more)