Here are some pictures of Greyhounds currently living at Greys'Land awaiting adoption. Keep in mind that Greyhounds do not just come in a variety of colors; they come in a variety of personalities as well. It is the dog's personality, not its pretty face, that makes for a good or bad fit in your home. Whether you are looking for one that is very active and playful, very calm and docile, or somewhere in between, chances are there is a Greyhound that will fit your lifestyle.
To learn what it is like to live with a retired racing Greyhound, we invite you to visit us at our Meet and Greets and mingle with some of our adoptables as well as talk to current owners. Just check out Upcoming Events to see when the next one is scheduled. You are also welcome to come out to Greys'Land, the Greyhounds' home in Stone Mountain, Georgia. Give Carl a call at 770-469-9533 to arrange an appointment.  For additional information on the history of any of our adoptables, such as their racing career, just go to Track A Greyhound's Career and follow the instructions.
If you are interested in adopting a Greyhound, we do require that you first complete and submit our online Adoption Application form. There is no cost, nor does this form in any way obligate you to adopt. It merely gives us information that will help us guide you to the best dog for your home situation.
Because of our high turnover, there is no guarantee that any dog on this page is still available. Also, RECENTLY ARRIVED GREYHOUNDS MAY NOT YET BE POSTED TO THIS SITE. You can always call us at 770-469-9533 to see if there are Greyhounds available other than those shown.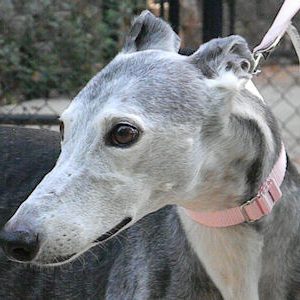 ADOPTED.
Hooray! 12-year-old Ellie has a new forever home! When she first came to AAGA back in 2012, she was not quite 5 years old. We described her as a sweet black girl with a ...
(more)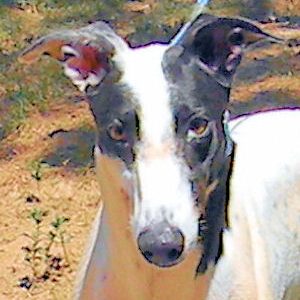 This is the first hound to ever come to AAGA with 11 Performance Points and 33 races accumulated before turning  2 years old, the age when most racers are just beginning their careers. Doeboy was ...
(more)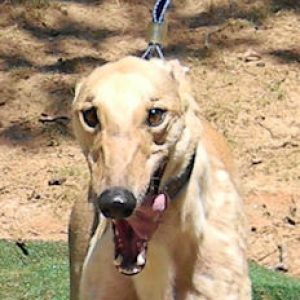 ADOPTED.
There is no getting around that Plaska is still a puppy. She hasn't even finished moulting her baby fur! Although she never raced professionally – couldn't even make the grade in her schooling ...
(more)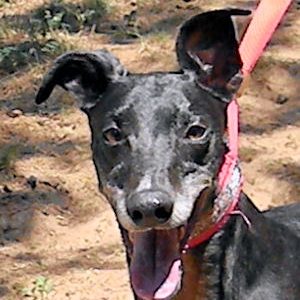 Outgoing, confident and personable, this big (78#) powerful  boy accumulated 13 Performance Points in his 146 races, 60% of which were "in the money". Yet he is as gentle and well-mannered as he is sleek ...
(more)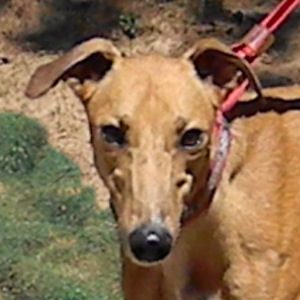 Daphne is a cute rambunctious, excitable girl — a "jumper upper" — who, in her 17 career races, would start out with a lot of enthusiasm only to get "bumped" out of contention by the ...
(more)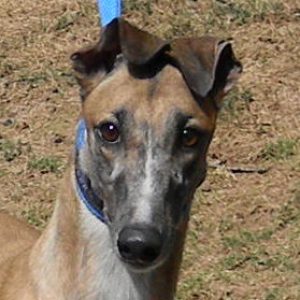 Known at both the track and AAGA as "the girl with the cutest ears", Jess first came to us in early 2018 as a perky sweet young girl who was just not cut out to ...
(more)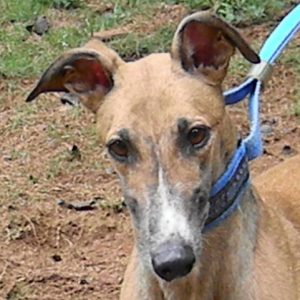 Known as "G", this moderately-sized young boy (69 pounds) can boast of a lot of big names in his pedigree.  When he raced, he was always determined to try for the rail, and as a ...
(more)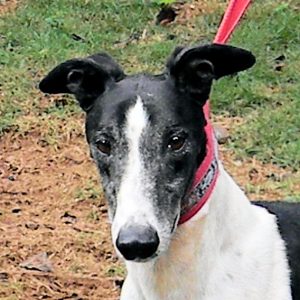 Rock is a handsome 74-pound guy.  With noteworthy racing genes in his background, he had a relatively long racing career, with 52% of his 198 races "in the money".  He is a confident, outgoing fellow ...
(more)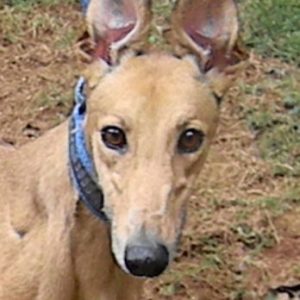 Quibble is the product of a number of racing greats.  She successfully ran 116 races ("in the money" in half of them) when a minor sprain put her into retirement. Back in prime condition, Quibble ...
(more)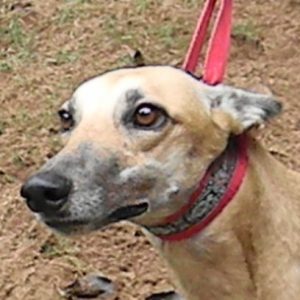 This pretty young girl was just not in a mood to have her picture taken.  Still a bit "puppy shy", she was probably a little confused and overwhelmed by the sudden change from her track ...
(more)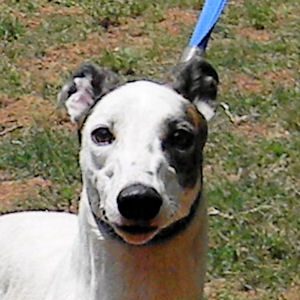 ADOPTION PENDING. 
Except for 2 brindle ears, a brindle patch over his left eye, and a spot of brindle on his tail, this handsome fellow is totally white.  Ranger's 126 races put him "in the ...
(more)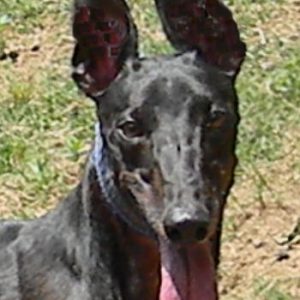 ADOPTION PENDING. 
You have to look real hard to find even a spot of white on this petite (56#) shiny black gal who looks like an AKC show Greyhound.  But don't be misled.  Boasting an ...
(more)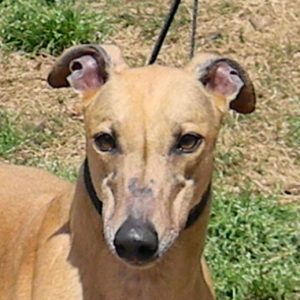 Bourbon is a spunky girl with large ears she can work like semaphores.  Her racing career consisted of 143 races with a 52% success rate.  Bourbon is very outgoing and friendly, but she has a ...
(more)