Here are some pictures of Greyhounds currently living at Greys'Land awaiting adoption. Keep in mind that Greyhounds do not just come in a variety of colors; they come in a variety of personalities as well. It is the dog's personality, not its pretty face, that makes for a good or bad fit in your home. Whether you are looking for one that is very active and playful, very calm and docile, or somewhere in between, chances are there is a Greyhound that will fit your lifestyle.
To learn what it is like to live with a retired racing Greyhound, we invite you to visit us at our Meet and Greets and mingle with some of our adoptables as well as talk to current owners. Just check out Upcoming Events to see when the next one is scheduled. You are also welcome to come out to Greys'Land, the Greyhounds' home in Stone Mountain, Georgia. Give Carl a call at 770-469-9533 to arrange an appointment.  For additional information on the history of any of our adoptables, such as their racing career, just go to Track A Greyhound's Career and follow the instructions.
If you are interested in adopting a Greyhound, we do require that you first complete and submit our online Adoption Application form. There is no cost, nor does this form in any way obligate you to adopt. It merely gives us information that will help us guide you to the best dog for your home situation.
Because of our high turnover, there is no guarantee that any dog on this page is still available. Also, RECENTLY ARRIVED GREYHOUNDS MAY NOT YET BE POSTED TO THIS SITE. You can always call us at 770-469-9533 to see if there are Greyhounds available other than those shown.
Anemone was recently returned to AAGA for financial reasons after being in a home for 8 months. She is a pretty, petite dark brindle girl with a big white chest and nicely tipped ears.  She ...
(more)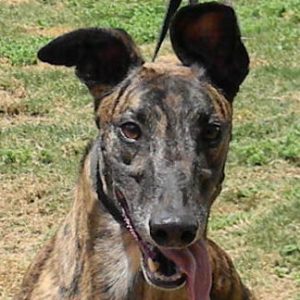 Spartan is a big (RWt 76#), strong handsome guy with a dark face and large impressive ears. Confident and outgoing, he certainly is used to travel, as his 107 races were spread out over the ...
(more)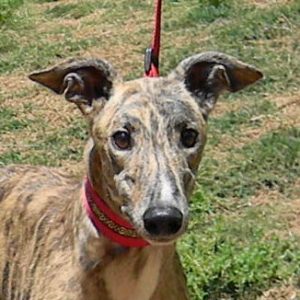 SPECIAL HOME NEEDED.  This handsome young fellow was diagnosed with an auto immune disorder that left his body covered with a painful rash.  For the past 4 months Mullen has been extensively treated and lovingly ...
(more)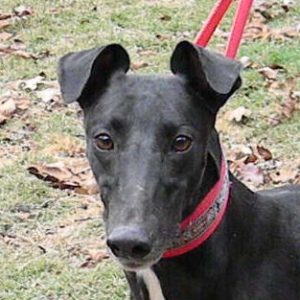 ADOPTED. 
Zombie was recently returned to AAGA after 17 months in a home because of "family financial problems".  There were no issues with him.  Zombie is a Greyhound with an "international flare".  His dad is ...
(more)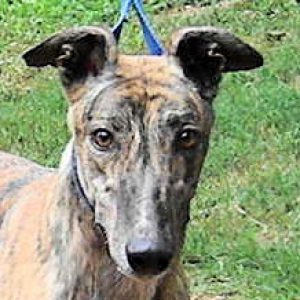 ADOPTED. 
Boasting a powerful pedigree, Winner lived up to his name by successfully finishing his 104 races "in the money" 57% of the time.  He is quite handsome with distinctive brindle markings. Winner is a ...
(more)
ADOPTED.
Such a lovely petite girl with her shiny, shiny coat, big white chest, and super slim (AKC-like) waist. Viper is very sweet and very friendly. She chalked up her 61 career races touring the ...
(more)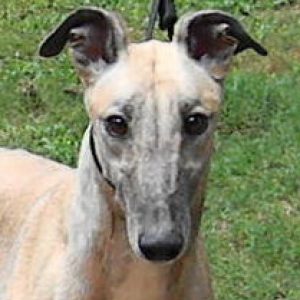 Ya gotta love this "blonde" puppy. Bear is a happy outgoing playful Greyhound who knows his name, comes when he's called, and "smiles". Because he's so social, he would probably do best living with another ...
(more)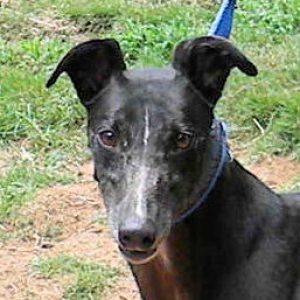 ADOPTION PENDING. 
167 races, the last one just 5 days before she came to AAGA, comprise Kathy's athletic career. Almost half of those runs were "in the money". She's a lovely black lady with the ...
(more)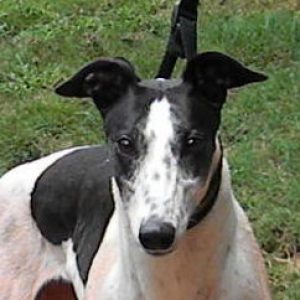 This chunky bundle of energy (RWt 66#) is as pretty as she is fast. Her resume includes 121 races, 53% of which were "in the money". She's a happy, outgoing, confident girl. No kitties or ...
(more)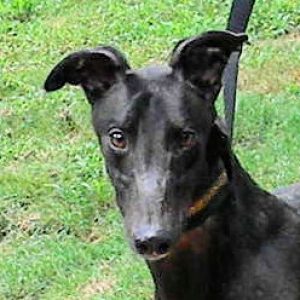 ADOPTED. 
Captain is a sleek young guy on the small side (RWt 68#) who raced just four times, apparently not developing the most intuitive racing skills. He is very friendly and loves company.  He will ...
(more)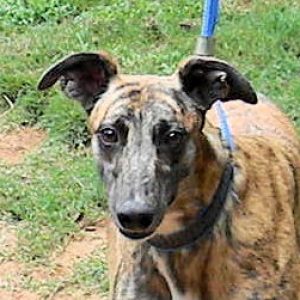 Holly managed to compete at a level that earned her 2.0 performance points in her 81 career races.  In spite of her quiet demeanor, she was plucky and determined on the track, completing her races ...
(more)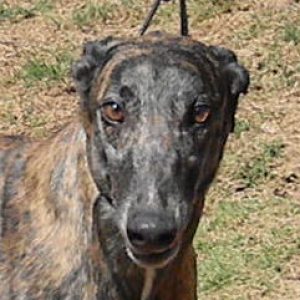 Valor is a good-sized (RWt 73#), most attractive brindle boy with a dark face. Despite an enviable pedigree, he ran 97 races with just a modicum of success. Valor is a friendly guy who loves ...
(more)