Here are some pictures of Greyhounds currently living at Greys'Land awaiting adoption. Keep in mind that Greyhounds do not just come in a variety of colors; they come in a variety of personalities as well. It is the dog's personality, not its pretty face, that makes for a good or bad fit in your home. Whether you are looking for one that is very active and playful, very calm and docile, or somewhere in between, chances are there is a Greyhound that will fit your lifestyle.
To learn what it is like to live with a retired racing Greyhound, we invite you to visit us at our Meet and Greets and mingle with some of our adoptables as well as talk to current owners. Just check out Upcoming Events to see when the next one is scheduled. You are also welcome to come out to Greys'Land, the Greyhounds' home in Stone Mountain, Georgia. Give Carl a call at 770-469-9533 to arrange an appointment.
If you are interested in adopting a Greyhound, we do require that you first complete and submit our online Adoption Application form. There is no cost, nor does this form in any way obligate you to adopt. It merely gives us information that will help us guide you to the best dog for your home situation.
Because of our high turnover, there is no guarantee that any dog on this page is still available. Also, RECENTLY ARRIVED GREYHOUNDS MAY NOT YET BE POSTED TO THIS SITE. You can always call us at 770-469-9533 to see if there are Greyhounds available other than those shown.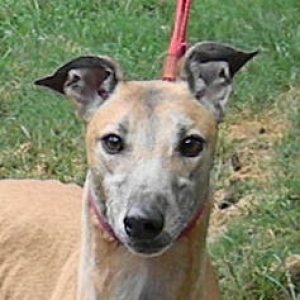 ADOPTED.  
Gary is a handsome, outgoing and muscular fellow.  Taking after the success of his Australian-bred father (captain of the 2012 All American Greyhound team), Gary completed 132 turns around the track with a 60% ...
(more)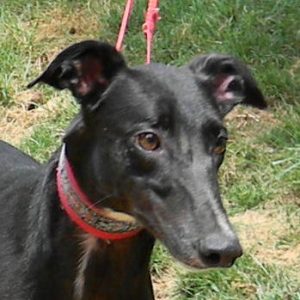 Twinkle is a shiny black girl with a very pretty face, a white chest and white toes on all four feet.  While still running at the "Grade A" level, she sustained an injury that sidelined ...
(more)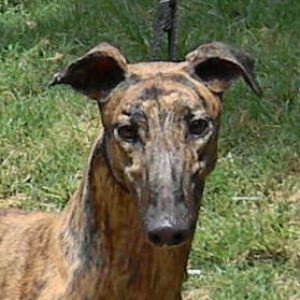 ADOPTED.  
Although on the smaller side — 67 pounds — Cap is strikingly photogenic with his dark face, long narrow muzzle, and lovely brindle markings.  He is a friendly, outgoing young man who can boast ...
(more)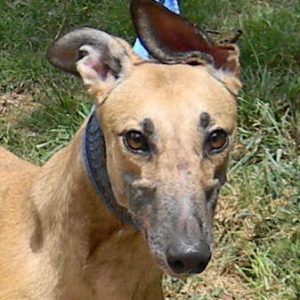 Loco is a gorgeous red girl with a dark muzzle and natural mascara'd eyes.  Now well healed from an injury she sustained after just 16 races, she is active and playful and doesn't let anything ...
(more)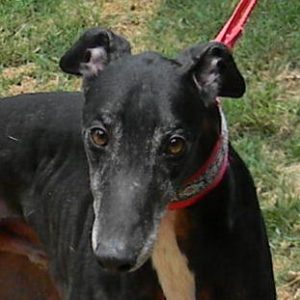 ADOPTED.
 In his 78 career races, Gordon managed to earn 2.0 performance points and an "in the money" rate of 61%. He is a friendly, well-behaved guy with Irish racers in his ancestry ...
(more)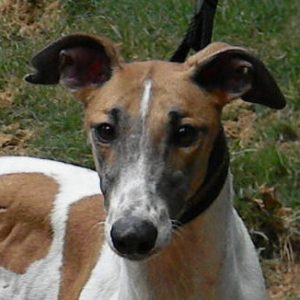 ADOPTION PENDING.
This strikingly-marked young girl is somewhat quiet and reserved.  Although boasting of a star-studded pedigree, Jojo couldn't seem to develop the skills to keep out of trouble on the track.  Thus, she was ...
(more)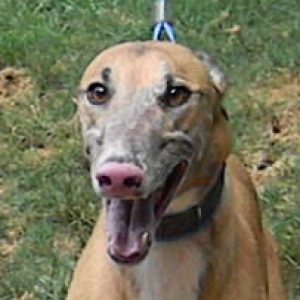 ADOPTION PENDING.  
Abner is instantly recognizable by his cute pink nose.  He is extremely affectionate and clingy, making him darn near irresistible.  A fairly big guy—racing at 74#—Abner chalked up 60 races on his resumé ...
(more)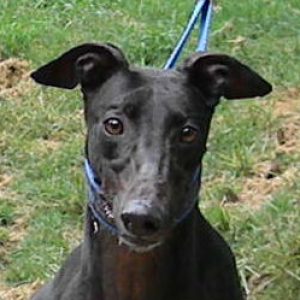 ADOPTED.
 Despite a strong pedigree, Venus completed just 8 races before she was retired.  She is a very friendly, sweet and active young pup ...
(more)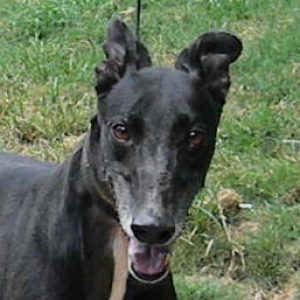 ADOPTED.
 Blaze is a good-looking fellow with an attractive white chest.  A good-sized boy (Racing Weight 73#), he had a noticeably successful racing career, earning 17 performance points and bringing home a check in 66% ...
(more)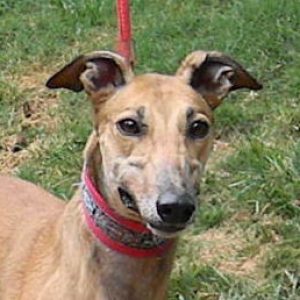 Fairy is a pretty, classic-looking red young lady who raced in Tijuana, Mexico, before coming to Jacksonville.  In her 66 professional races, she came in "in the money" 64% of the time and was still ...
(more)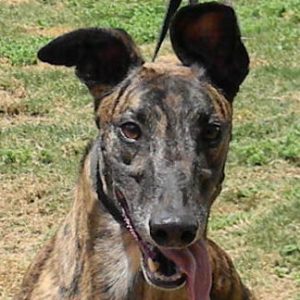 ADOPTION PENDING.  
Spartan is a big (RWt 76#), strong handsome guy with a dark face and large impressive ears. Confident and outgoing, he certainly is used to travel, as his 107 races were spread out ...
(more)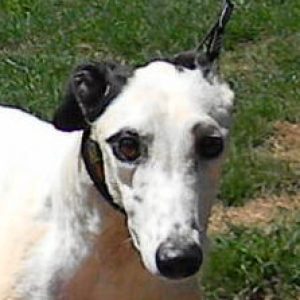 ADOPTION PENDING.  
Joker stands out with his unique coloring.  He is mostly white, with one black ear, one black-n-white spotted ear, and a black circle around his right eye.  While he gets along well with ...
(more)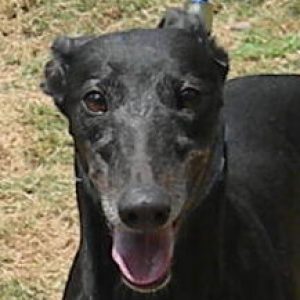 ADOPTION PENDING.
Nite is an adorable petite shiny girl with a super personality.  She knows her name and is very rambunctious and affectionate.  She will jump up on you and literally cover your face with ...
(more)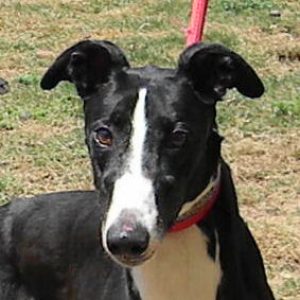 With his striking "tuxedo" markings — white blaze on face, white chest and belly, 4 white stockings, and white tipped tail — Praetor looks as if he is decked out for a big formal affair ...
(more)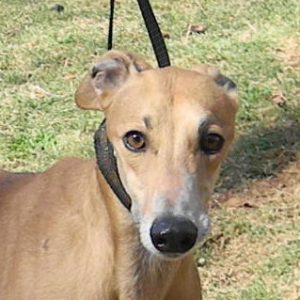 ADOPTED.  
This young boy is so handsome but very shy, probably why he never raced.  Although he has free run of the Greys'Land facility, when there are visitors present, he generally maintains his distance and ...
(more)