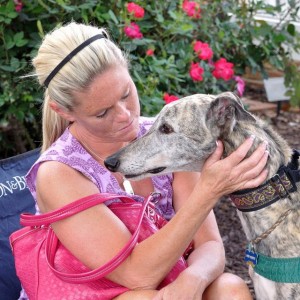 Meet 'n Greets are great places to meet adoptable Greyhounds and to visit and talk with Greyhound owners who are always eager to answer all your questions about what it's like to live with an ex-racer.
AAGA regularly holds a Meet 'n Greet at the Johns Creek PetSmart on the 3rd Saturday of each month. The address is 3630 Peachtree Parkway, Suwanee, GA 30024 (ph: 770-814-8723).
Notice:  Because we currently have no available adoptables — and we do not yet have any new arrivals scheduled — we are cancelling our January 19th meet 'n greet. In the meantime, feel free to call Carl for further information and any questions you might have.
NEXT MNG:  Saturday, Feb 16th, 2019, from 12 noon to 3:15 pm.