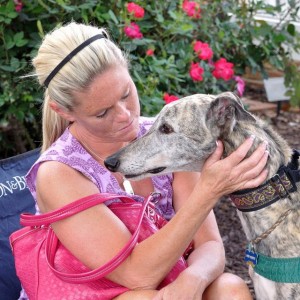 Meet 'n Greets are great places to meet adoptable Greyhounds and to visit and talk with Greyhound owners who are always eager to answer all your questions about what it's like to live with an ex-racer.
AAGA regularly holds a Meet 'n Greet at the Johns Creek PetSmart on the 3rd Saturday of each month. The address is 3630 Peachtree Parkway, Suwanee, GA 30024 (ph: 770-814-8723).
Notice:  Because of the current uncertainty of our having any ex-racers available for adoption, we may or may not hold a regular monthly Meet 'n Greet.  If you are interested in coming out for a Meet 'n Greet, please give Carl a call first at 770-469-9533 to find out if one is scheduled.