Does your ex-racer need a "Grey-cation"?
We Greyhound owners know that our Greys are different from other breeds. So we understand how very stressful it can be to both you and your special hound when you must be away traveling – for either work or vacation – and you want only the best and most reliable care for your favorite ex-racer.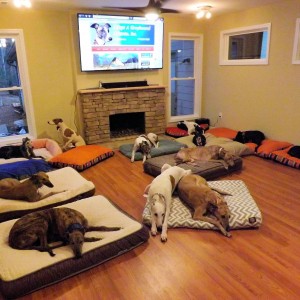 GREYS'LAND is a unique boarding facility that caters exclusively to the Greyhound. It is a real home in Stone Mountain, Georgia, where our Greyhound guests roam free in Bishop Hall, a large bright "greyt" room with piles of comfy dog beds, a large-screen TV, and a full kitchen stocked with doggy treats.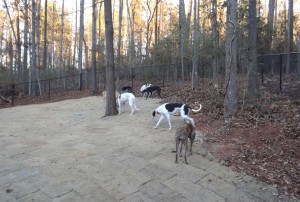 Several times a day the Greys happily romp outdoors with their canine friends in large fenced-in exercise/play yards.
But Greys'Land's greatest benefit is that our boarders receive 24/7 on-site personal attention and TLC from Carl Viener, AAGA's President and Founder, who, with 35+ years of Greyhound experience, probably understands your hound almost as well as you do.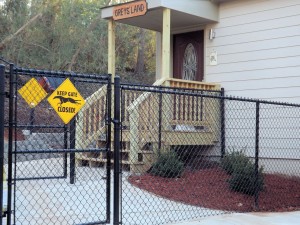 Greys'Land is conveniently located approximately 15 miles east of Atlanta off of US285 Exit 39B, the Stone Mountain Highway (US78).
Greys'Land is open 7 days a week (including holidays) by appointment. For more information and our reasonable rates, to schedule a visit to Greys'Land, or to make your reservations, call Carl Viener at 770-469-9533. Discounts are available for multi-Grey families.

The Greys'Land Boarding Club
at
Adopt a Greyhound Atlanta, Inc.
4815 Annistown Road
Stone Mountain, GA 30087
Phone 770-469-9533
Also visit us on Facebook.